Sponsor Spotlight: RenovationFind
We're excited to have RenovationFind as a sponsor of the 2019 Vancouver Fall Home Show. Before you visit this unique company at the Vancouver Convention Centre - West over the October 24-27 weekend, please enjoy our brief interview with the RenovationFind team below.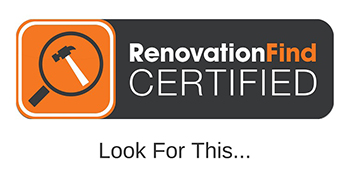 Q: How does your service work?
"RenovationFind provides homeowners with a listing of pre-screened, ethical and trustworthy contractors, certified trades and home improvement companies. Every company listed on www.renovationfind.com has gone through a stringent screening and certification process. We use a third-party organization to run background checks on what we believe are the seven most important criteria in the industry. Those criteria include legal background checks, credit background checks, monitoring for customer complaints, checking for proof of a valid business license and insurance, as well as WCB coverage. Companies who are a member of the Better Business Bureau receive a higher ranking on the directory. Using that third-party, we can continually monitor the companies on the directory to ensure every company listed is up to standard.
RenovationFind is focused on protecting homeowners from getting ripped off by contractors and renovation companies. The second part of our business is to promote the good, worthy companies, and to help create a positive reputation for our industry. We want to see success for both the homeowner and the contractor involved in the home renovation."
Q: What can we look forward to from you at the Vancouver Fall Home Show?
"Visitors will find us at our booth and learn more about what RenovationFind does. Our mission at these shows is to help connect homeowners with reputable contractors, so we allow homeowners to post their projects on a tablet at our booth. Then we provide them with three quotes from contractors on our directory for that project. For example, if they are looking to completely renovate the main floor of their house, we can connect them with general contractors in Vancouver, and give them actual quotes for their project.
We also invite visitors to the show to sign up for a RenovationFind Membership. RenovationFind Members receive exclusive, discounted pricing from a select list of partnering businesses in their city. This can help them save money on future home renovations. As an incentive to sign up, visitors can enter to win an iPad and $1000 cash at our booth at the Vancouver Fall Home Show."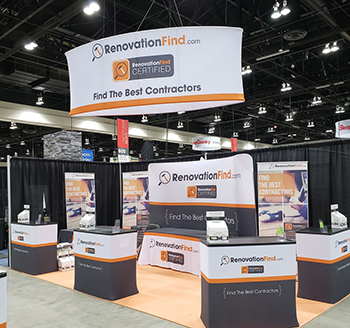 Q: What advice do you have for homeowners?
"Research, research and more research. Before you hire anyone to work on your home, do extensive research on that company. First, check to see if they are on a third-party site like ours or the BBB. Then ask to see documentation of their credentials including insurance, WCB coverage and a prepaid contractor license. It is your right has a homeowner to see those things, so do not feel shy to ask.
You should also get everything on paper, including a detailed breakdown of your project and its costs as well as any permits pulled for your project. Make sure these hardcopy documents are signed and legally executable. When you are asking for references, I recommend asking for a reference on the last three jobs they've completed. Make sure they provide you with a valid invoice or other documentation that proves it was a real customer. If you ask for any three references, the contractor will always give you their three best, as we all would. By getting to speak with the last three projects, you'll get a more accurate idea of the work they do and the overall customer experience."
Q: What inspires your services?
"I met a lot of people through my granite countertop company that were being ripped off by contractors and companies in the industry. Because counters are one of the last things that go into the home, my company K & J's Custom Granite often heard about all the bad experiences that happened before we got there. Contractors taking deposits and disappearing, or companies going out of business before completing the job. We heard so many bad stories it was getting ridiculous. I wanted to create a solution for homeowners. To connect them with the good, trustworthy companies I knew were out there. In doing this, I hoped to improve the home renovation experience for homeowners and improve the diminishing reputation of the renovation industry."
Q: What is your favourite part of the Vancouver Fall Home Show?
"The best part about our participation in these shows is connecting homeowners with the companies on our directory. It's win-win for all involved. A homeowner can feel at ease knowing they're meeting a contractor that can be trusted to do good work and the companies we work with will get the business they deserve."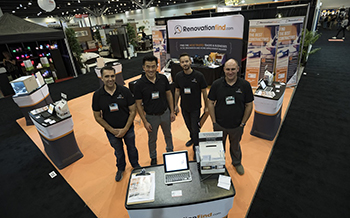 Q: What design or decor trends are you loving in 2019 or anticipating for 2020?
"We talk to a lot of people at these shows and we often conduct surveys. We have found that more and more people are choosing to renovate rather than buy a new home and move. People are enjoying their neighbourhoods, they like their homes, they just need to renovate to meet their changing needs for both function and aesthetics. Whether it's remodeling the basement or bathroom renovations in Vancouver, we've loved watching this trend of people improving their homes for a long-term stay."
Q: Are there any success stories you'd like to share?
"Homeowners have been happy to have access to the RenovationFind directory. We've received feedback that our directory of pre-screened companies really takes the stress out of finding and hiring someone for a home renovation. Then knowing they are constantly monitored, makes the whole renovation process less stressful.
The companies listed on RenovationFind.com benefit from increased business. We work hard to market them to their target geographical market through their listing and content posted on RenovationFind's marketing streams."
Q: What can folks expect when they work with you?
"For homeowners, you can expect unbiased, down-to-earth and honest advice on hiring a certified trade or home renovation contractor. Homeowners can trust that we are doing our due diligence screening and continually monitoring all the companies on the website. If you become a RenovationFind Member, you will receive exclusive pricing and promotions from select renovation and home improvement companies in your city. They'll find a huge list of categories including general contractors, Vancouver insulation companies, concrete contractors, painters, electricians, HVAC companies, siding contractors, window companies, roofers, and more!
For companies, we are committed to promoting them to homeowners in their city and target market. We broadcast their content and messaging to our vast membership through email campaigns, blog postings, social media marketing and search engine optimization targeting. We work hard to promote the companies on our site and celebrate when we see their business grow."
The Vancouver Fall Home Show is your source for trusted home experts, like RenovationFind. Join us at the Vancouver Convention Centre-West October 24-27 to get great ideas for your space and see HGTV Canada Celebrity Contractor Bryan Baeumler (appearing Friday and Saturday). We can't wait to see you at the show!
Oct 3, 2019, 19:05 PM