Sponsor Spotlight: RenovationFind
Oct 12, 2022, 14:17 PM
We're thrilled to have RenovationFind as a sponsor of the 2022 Vancouver Fall Home Show. Before you visit this inventive company at the Vancouver Convention Centre over the October 20-23 weekend, please enjoy our brief interview with the RenovationFind team below.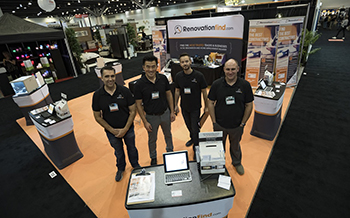 Q. How does your service work?
RenovationFind.com helps connect homeowners with trustworthy home services companies, contractors, and trades. Anyone can access our free online directory of certified companies. To become certified, the companies pass stringent legal and financial background checks. In addition, a third-party organization has checked for correct business licensing, WCB coverage, and insurance. Then, the organization monitors each company to ensure they continue meetingour high standards. Those involved with the Better Business Bureau will receive a higher ranking on the website.
RenovationFind helps protect homeowners by offering them a listing of honest, reliable, and experienced home improvement contractors. For example, if you want to paint your house, you'll find a list of the best painters in Vancouver on RenovationFind.com.
If you're a home improvement business, our certification allows you to build a brand of trust with your target demographic. We also provide a suite of digital marketing services to help companies increase their online presence and to generate quality leads.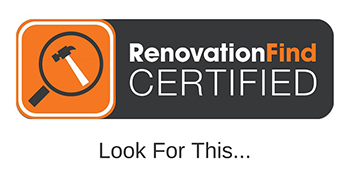 Q. What inspires your services?
We wanted to stop hearing terrible stories about homeowners being ripped off by bad contractors. But, unfortunately, everyone has listened to a story about a shoddy contractor that flew the coop without completing the job or left the homeowner with terrible work. Providing a service like RenovationFind helps homeowners connect with reliable, worthy companies so they won't regret their decision and will have a less stressful, more positive experience.
Q. What can we look forward to from you at the Vancouver Fall Home Show?
First, we will have a booth at the show where people can meet our team and learn more about what we do. Then, you can "Post a Project," and we will send those project details to relevant and certified companies from our directory. For example, if you need some electrical work done, we'll send your project details to three of Vancouver's best electricians. Those companies will contact you for more information and provide an accurate estimate.
As always, we'll have a giveaway at the booth! Become a RenovationFind Member, and we'll enter you in the draw for $1,000. Plus, with your RenovationFind membership, you'll receive access to exclusive promotions and special discounts from our partner companies in Vancouver.
What advice do you have for homeowners?
The best advice we could give homeowners is to always do their research before hiring a contractor for a renovation. Check their credentials, do background checks, and ask for references. A reputable company will provide an accurate quote in writing and will be there to answer your questions. Do not hire a company without a written estimate and contract.
When asking for references, ask to speak to their most recent three clients. This way, you can get the most accurate idea of what it's like to work with them. Ask the references about the project, experience, and any other questions you might have about the company.
Q. What is your favourite part of the Vancouver Fall Home Show
Our favourite part of the show is definitely connecting with homeowners and helping them find experienced renovation companies for their projects. We can help the companies on the website by getting them business and ensuring the homeowners get a trustworthy, qualified company to help with their projects. It's a win-win for everyone, and it feels great to make those connections!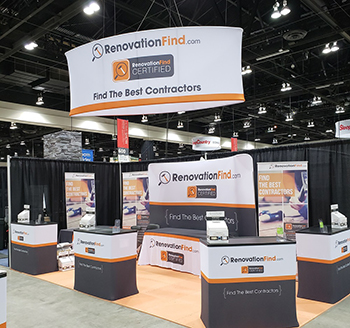 Q. Are there any success stories you'd like to share?
We've had fantastic feedback from users of the directory. Homeowners are finding success when looking for a contractor, and our certification process has reduced the stressful aspect of renovating. We can also promote the companies to their local target market, attract new customers to their RenovationFind profile, and help them grow their business.
Q. What can folks expect when they work with you?
Homeowners will discover a vetted listing of contractors that will provide quality work and customer service. If you sign up for a RenovationFind membership, you'll get special pricing and promotions from the partnering companies in your city. Our directory includes general contractors, home builders, flooring companies, HVAC companies, drywall contractors, painters, exterior renovation companies, Vancouver's best plumbers, and many others.
If you're a home improvement company, your RenovationFind Certification will help you establish a brand of trust and honesty among new and potential customers. We help bring traffic to your RenovationFind profile and website through email campaigns, social media marketing, blog posts, search engine targeting, banner ads, and other digital marketing tools. We love to see our companies expand their online presence and get more leads through our marketing efforts.