Tired of Cooking? Lilydale to the Rescue!
As the weather starts to cool off and the holidays start creeping up on us, time becomes more and more challenging especially in the kitchen. Who wants to cook all day when we have people to see and places to go! It may be hard to cook a great meal for yourself, family or friends. Lilydale is here to the rescue!
For over 75 years, Lilydale® has proudly provided Canadians with delicious poultry products that use only Canadian raised chicken and turkey. Lilydale® has a wide variety of premium poultry products ranging from fresh and frozen to fully cooked products like deli, sausages and turkey bacon that help you spend less time in the kitchen.
When you use their Oven Roasted Carved Chicken Breast or Turkey Breast strips you aren't sacrificing on quality; it's cut from whole turkey and chicken breast and it saves you time; it's fully cooked, sliced and ready to add to any dish.
Like their Easy Alfredo Chicken and Vegetable Fusilli that comes together in just 20 minutes. So easy to make and so delicious you'll want to make extra for lunch the next day or share it with your friends. Be sure to visit their website
www.lilydale.com
for more product information and where to buy all of their products. Come by the Lilydale® Cooking Stage at the Vancouver Fall Home Show to see a live cooking demonstration!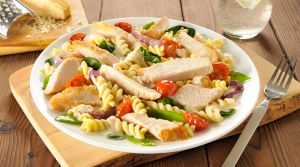 Easy Alfredo Chicken and Vegetable Fusilli
Prep Time: 10 minutes
Cook Time: 10 minutes
Total Time: 20 minutes
Serves: 2
1 package (300 g) Lilydale® Oven Roasted Chicken Breast Strips
1 cup (250 g) prepared Alfredo sauce
2 cups (500 mL) fusilli, cooked
1 tbsp (15 mL) olive oil
½ cup (125 mL) snow peas, washed
10 cherry tomatoes, washed and cut in half
½ small red onion, sliced
¾ cup (375 mL) fresh baby spinach, washed
2 tbsp (30 mL) Parmesan cheese, grated
basil sprigs for garnish (optional)
1. Prepare fusilli in a large pot as per package directions. Drain and set aside.
2. Heat olive oil in a large pan, and sauté the snow peas, cherry tomatoes, and the slices of red onion for 3-4 minutes. Add the Lilydale® Oven Roasted Chicken Breast Strips and sauté for one more minute. Remove from heat and set aside.
3. In a small saucepan, heat the Alfredo sauce.
4. Place the vegetables and Lilydale® Oven Roasted Chicken Breast Strips into the pot with the fusilli. Pour in the Alfredo sauce and stir gently. Add the fresh spinach and stir gently again.
5. Divide between 4 bowls and garnish with Parmesan Cheese and basil sprigs.
Tip:
To make the pasta for a larger group simply double the recipe!
Oct 10, 2019, 22:24 PM